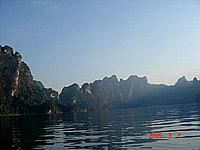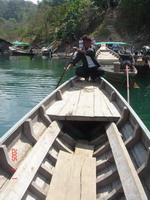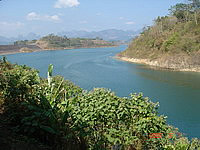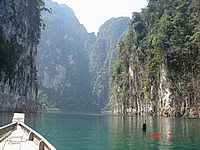 (Daily 08.00 -17.00)

Pickup in the morning and drive to Khao Sok National Park at the Chiewlarn Lake or Guilin of Thailand. Time to explore Chiewlarn Lake by local boat. The lake was formed when the Rhajaprabhar Dam was built about 20 years ago to provide water for a hydroelectric power plant and planned to support the local community and their agriculture.

The lake is about 60 km from north to south and contains more than 100 hundred islands. There are many mountains and cliffs covered in rainforest forming spectacular natural scenery, this combined with its remoteness makes a very unique jungle area to explore. It is similar to the landscape in Haloing Bay in Vietnam or Guilin in China.

In the 70's the area was used as a hide out by communist and students fighting against the government which was a military dictatorship at that time which adds to the mystery and amazing history of the area. Lunch is provided on one of the lakes many raft house. In the late afternoon return to raft house and continue back to Krabi. We might reach Krabi about 14.00 – 16.00. 

Taking the typical longtail boat throughout the lake and enjoy the most beautiful scenic of this lake and stop a place where we will start trek. The trek is designed to show a variety of ecological environments including big trees, jungle vines, lianas, palms, ferns, wild orchids, bamboo forest, insects, reptiles and sometimes mammals. It is not a wildlife safari but a chance to see the rainforest which has the greatest variety of life forms known to man. The wild animals that live here tend to be nocturnal but sometimes they can be heard moving in the undergrowth or their distinctive smells encountered. Wild elephant live in the park but are seldom seen. The trek is not too difficult for one. About 15:00 we will drive back to the shore and continue to the Krabi again.
> Incl: transfer, guide, drinking water, fruit, lunch, national park fee and insurance
> What you need: trek shoes or sport shoes, mosquito spra, cap, and camera

* visiting Temple and local area, please dress appropriately and respectfully
** If client stay at Rayavadee or Railay Beach, addition charge roundtrip transfer to/from mainland pier 650 x 2  ways per person
** all route and time are subjected to change and the weather conditions